AmigaOS 3.9 Review
Written by Gregory Donner.
Updated on March 22, 2002 to reflect the release of Boing Bag 2.
LhArc archive (422k) of this review | Spanish translation by Vic Yolco
Stop by the OS 3.9 FAQ for answers and tips to AmigaOS 3.9.
---
---
Introduction
AmigaOS 3.9 began shipping on December 4, 2000, with the first official demonstration on December 9, 2000 at the World of Amiga 2000 show in Cologne, Germany. It has received both criticism and praise; criticism for being a 'shareware/freeware' upgrade, and praise for offering new, efficient, and properly integrated features that no longer have to be added and configured by the user.
Boing Bag 1 (Workbench version 45.2) was released on March 31, 2001. Boing Bag 2 (Workbench version 45.3) was released on March 20, 2002; its three archives are available for download: main | locales | contributions.
Installation
Installation can be made directly onto an empty partition or hard drive, as well as an OS 3.1 or 3.5 partition. Whenever you run the installation program, you are presented with seven choices (available at any time):
Create emergency disk
OS3.9 update installation over OS3.5
OS3.9 full installation over OS3.0 or empty HD
Install Internet Software
Install PowerPC support
CD-ROM driver
Add new languages
Main installation takes about five minutes and installs effortlessly.
Please note that as I don't own either a Zip drive or a PowerPC accelerator, the IomegaTools and WarpOS v5 have been omitted from this review.
The new ASL prefs editor (v44.2) lets you set the default window size, position, and sorting options for all asl.library requesters. AslPrefs (v44.2) in SYS:WBStartup loads your preferences, while Asl (v45.6) in SYS:Prefs is the actual editor. This version differs from Stephan Rupprecht's last release in that it combines the File, Font, and Screenmode settings into a single set of options.
AMPlifier (v2.34) is the .MP3, .AIFF, and .WAV player that uses AHI for playback, and can be configured with any of hundreds of WinAMP skins available via websites such as www.winamp.com (custom Sony skin shown). Installation of skins is a simple matter of unzipping the skin archive into it's own subdirectory (.wsz archives are normal .zip archives), and selecting the new directory from within AMPlifier's configuration editor. Besides a number of bug fixes, the Boing Bag 1 release of AMPlifier adds excellent support for streaming Shoutcast/Icecast audio. New in Boing Bag 2: Improved/expanded support for most, if not all, MP3 streaming audio.
ACTION (v45.3) plays both Quicktime (.mov) and Video for Windows files (.avi). It features fast playback on even modestly-equipped Amigas. Due to licensing restrictions, it doesn't support Indeo-compressed movies. Visit László Török's website for more information on which audio and movie codecs are supported.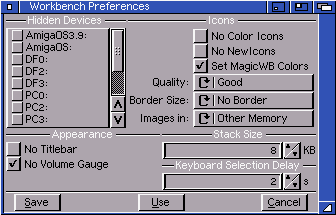 The Workbench prefs editor (v45.1) has integrated several options. You can toggle the Workbench titlebar off/on, and the volume gage in disk windows. You can also save CHIP RAM by storing icon image data in fast RAM, and force MagicWB color locking.
Workbench Pattern preferences (v45.1) has gained a new 'Layout' gadget that lets you Tile, Center, Scale, or 'Scale Well' images, and allows you to select your preferred dither quality as well.
New in Boing Bag 2: The new picture.datatype Preferences editor allows you to designate which application supports the V43 mode of the datatype. This modus offers support for screens with more than 256 colors. You can also specify whether pictures should be dithered on high color screens (65536 colors) or not.
OS 3.9 uses a modified version of the XAD decompression system, and Unarc (v45.13) is the ReAction GUI for it. Working alongside DefIcons, this is a powerful system that can easily decompress a myriad of file and disk-based archiving formats. LhArc, LZX, Zip, DMS, Tar, GZip, and many more are supported. A simple double-click on an archive file, and the Unarc GUI appears, letting you decompress—all, or a special selection—to your disk and directory of choice. New in Boing Bag 2: .ADF disk format extraction to files is now supported.
---